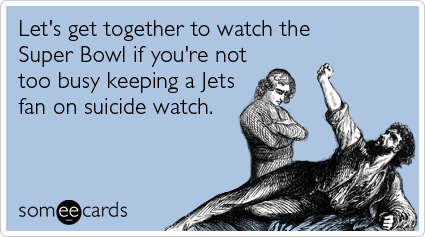 I almost didn't make it the first time...
Yes I am here to complain about the Super Bowl...again. It felt like just yesterday I was dreading this game back when I was at UC. The Patriots were undefeated and the Giants were on a roll like none other. Now the Patriots offense is loaded with weapons...again. I mean Tom Brady didn't even throw for a TD in the AFC Championship and STILL WON. And, like a few years ago, the Giants are on a roll like none other.
Before I got to college in 2005, I was more or less a fair-weather Jets fan. It seems crazy that my uncle played for them and I didn't love them but I had another team I followed a little more closely. The Dallas Cowboys. Ever since they beat the Pittsburgh Steelers in 1995 in the Super Bowl, I fell in love. I painted my room all Cowboys (well, Mom did). It was all Emmitt, Troy and Irvin with a sprinkle of Deion. Plus my favorite color was/is blue and most notably, they were winners. At the time, that's why I hated watching the Jets, if you recall in the late 90s/early 2000s, the Jets were terrible. I mean 1-15, Keyshawn Johnson and Vinny Testaverde 10 years past his prime.
You are the sole reason I cannot watch ESPN Sunday NFL Countdown. Swallow a knife...
Then, all of a sudden, the Cowboys got old. Aikman had concussion issues, Irvin was getting busted for drugs, Deion was smiling too wide, and Emmitt just wouldn't retire. The Jets on the other hand were trending up. Herman Edwards seemed to turn the team around and we drafted a young studly ginger named Chad Pennington from Marshall. Oh yeah, we had my all-time favorite Jet (behind Lance Mehl of course) Curtis Martin. They were playoff contenders again but never got over the hump. Pennington was like the comeback player of the year twice after wrecking his shoulder multiple times. His arm just wasn't made for New York. Martin couldn't carry the team EVERY game. Wayne Chrebet and Laveranues Coles weren't young pups anymore.
Love youuuuuuu
Halfway through the decade as I entered my college years, I thought the Cowboys and Jets were done for. What made matters worse was my college roommate, KKK, a die hard New York Giants fan. Let's just say from 2005 to 2009 was not a good time to best friends with that guy. Tony Romo was thought to be a savior but he's been a dud in crunch time. I mean his November to December win-loss record speaks for itself. The Jets teased me with back-to-back AFC Championship appearances but I think most of know Mark Sanchez couldn't throw his back out let alone hit a receiver in the chest. I got to put up with Rob and Rex Ryan.
Do everyone a favor and eat each other.
Romo and my Cowboys haven't won a playoff game since I was in elementary school. I've watched Romo bobble a field goal attempt and literally blow every chance he has had in crunch time. Look at this year. Literally the winner of the Cowboys and Giants game made the playoffs and the other went home. Look at the Giants now. I mean WHAT THE F**K. My bud KKK continually reminds me of how good the Cowboys are in a very sarcastic tone. When they beat the Patriots the first time around, I didn't think the ridicule would ever end. It was like "the song that doesn't end" or whatever that stupid kid's song is. I lie awake at night with Terrell Owens crying in my head or Wade Phillips looking like he has no clue what he is doing.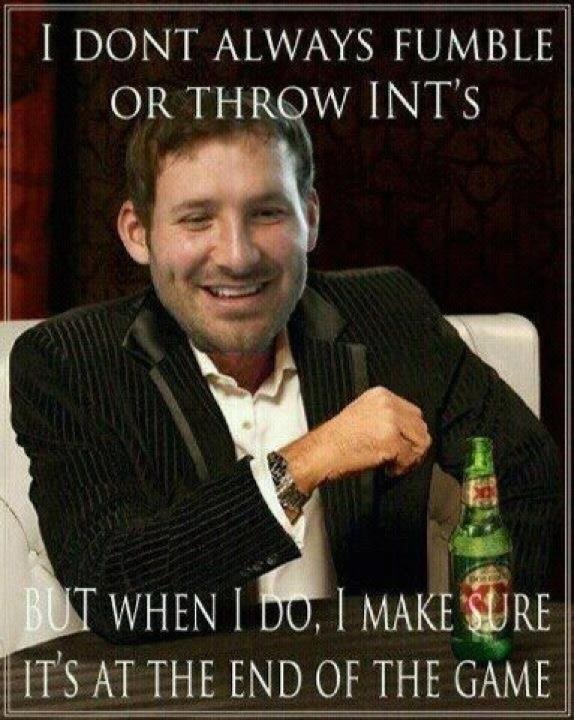 I'm trying to keep this blog PG rated but it's becoming increasingly difficult throughout this post in particular.
So as Super Sunday approaches, forgive me if I don't show the slightest glimmer of excitement. I'm sure my pal KKK and his wife will get all giddy and pumped up while I'll watch my two least favorite teams of all time square off against each other for World Champions. Oh, while I'm on that topic, hey NFL, we are literally the only country that plays this sport. You aren't really World Champions, you are North American Champions at best. Get a clue.
I am looking forward to the commercials, the movie trailers, and hoping for a light fixture to crush Madonna halfway through her performance. I hope Peyton Manning lights Lucas Oil Stadium on fire and all the fans escape except for Eli Manning and Tom Brady. You all have seen the new Dark Knight Rises trailer by now. You know where Heinz Field is literally imploding and Hines Ward is like "WHAAAAAA?!" Let's just say I hope Bane is in Indianapolis this weekend.
Now pretend that player is Deion Branch (Louisville grad who is exempt from my hate) and imagine G-men and Pats disappearing one by one. Awesome.
To make my Thrashing complete this week, I'll even give you a prediction. I think the Patriots get revenge. I kind of want it to happen too. I may even find myself cheering for the Michigan loser Brady because I just cannot stand Eli Manning's face. The fact that he may end up with more rings than Peyton makes me sick to my stomach. One final thought and I'll leave you nerds be. Seriously, somebody hurt Brandon Jacobs. He is a useless human being who benefits no one by existing. That is all.
Yep, Eli, you may be good, but it does not, will not, EVER change the fact I want to hit you right in the jaw
J-E-T-S JETS JETS JETS!!!!!!!!!!!!