Out of the 4 remaining series, 1 is over, 1 is tied, and 2 are on the brink of ending. We'll start with the first team to have moved on this weekend: the Los Angeles Kings.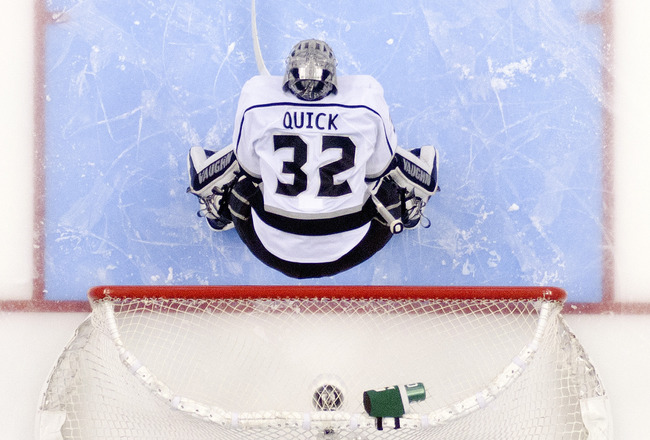 The LA Kings American goalie Jon Quick (what a perfect goalie name eh?)
It's safe to say this guy is the front runner for the Conn Smythe (Playoff MVP)
As a newly proclaimed bandwagon fan of the LA Kings, I will finally give this team the respect it deserves. Since 1994, when the NHL adopted the current 8 seeded playoff format, no team has done what LA has done thus far. As a #8 seed, the worst seed in the West, they have defeated the #1 and #2 seeded Vancouver Canucks and St. Louis Blues, respectively. It's been in dominating fashion as well with a 4-1 series over the Canucks and a sweep yesterday afternoon in front of their own in the Staples Center.
The only negative? By making the final four, the Columbus Blue Jackets first round pick will drop from 17th overall to the 27-30 range. This makes it certain the CBJ will pass on this year's pick and take their chances next year for a better pick. It's too bad because with the 2nd overall pick, a 17th pick would have looked really nice from this year's draft class.
RANGERS VS. CAPITALS
The lone tied series at this point has not disappointed. At 2-2 and heading back to Madison Square Garden, these two teams are punishing each other. The hits are vicious, granted they're illegal and stupid, and the scoring is tight. This is why you play all season for a top seed though. Now it's a best of 3 series with 2 in New York. Both teams are looking to make their mark with their current rosters. For the Rangers, it's been Henrik Lundqvist's team since he was drafted. Can he finally get them back to the Eastern Conference Finals like the legend Mark Messier? Forward Marian Gaborik seems to have found some offensive touch and that will be a huge boost moving forward on his line with Cup champion Brad "
The Beaver
" Richards.
That's my secret Caps, I'm always hungry!
On the Washington side, Alex Ovechkin threw a nasty leaving-the-feet headshot to Devils forward Zubrus. It's the kind of hit Ovie has been defined by and it's, at this point, embarrassing. For every great thing he does offensively, he negates it by being a giant douche. Nevertheless, this is an important stretch for Alex. Having never been past the 2nd round, he's quickly becoming the Dan Marino, Karl Malone, and Barry Bonds of the NHL. Rookie netminder Holtby has been stellar, if not spectacular, thus far. Can he keep it up? Head coach Dale Hunter has put the lid down on player's minutes, especially Ovechkin's. It looks like he finally has gotten control of a previously out of control (a 'I-don't-know-how-to-fix-it' out of control) Boudreau locker room.
Game 5:
TONIGHT at 7:30pm on NBC Sports Network in New York City
Game 6:
Wednesday night in Washington, DC
I think the Caps have to win the next 2 to take this series. If it goes 7, I like the Rangers even though the Caps previously won game 7 on the road in round 1 versus Boston.
COYOTES VS. PREDATORS
I'm rather surprised at the outcome of this series so far. Phoenix is up 3-1 where I thought it would be the opposite. Nashville came back with the same line up Friday night after winning game 3 and got handled pretty good. Tonight is game 5 back in Phoenix at 10pm on NBC Sports. Game 6 would be Wednesday in Nashville.

The Predators just haven't been good. Their goalie, their defense, and their offense has left a lot to be desired. After last year getting over the first round hump, I thought they would take the next step into the West Finals. They could still prove me wrong but I don't like their chances. The Yotes netminder Mike Smith has been fantastic and it seems like the Coyotes are the team of destiny this playoff season. In fact, expect Gary Bettman to have a press conference before the puck drop announcing they have found a buyer for the team as well to keep them in the desert. This is great news for the fans down there because with the NHL having operated that team the past 2 seasons, season tickets and viable sponsorship offers just weren't as prevalent. Hopefully they can start chipping away at the red in the books.

I think Phoenix takes this series tonight even without suspended defenseman and former Mr. Blue Jacket Rusty Klesla (CBJ's first ever draft pick). Nashville has some serious soul searching to do this summer. Phoenix however, on top of the ownership news, will get into their first ever Conference Finals. Good for them!


DEVILS VS. FLYERS
Again, shocked. After round 1, the Flyers looked unbeatable. Now, they don't even look like a playoff team. Also down 3-1 in the series, the Devils look to clinch tomorrow night in Philadelphia. It will be lone game of the night on NBC Sports at 7:30pm. The Flyers power play has been the exact opposite of round one vs. my Pens. Their super stars have been super sucky. In fact, Claude Giroux has the same amount of even strength points as Devils' goalie Brodeur does! HA!
The Devils just grind you down man. It's an awful type of hockey to witness but it's effective. They have arguably the greatest netminder ever between the pipes and have a great defensive presence. Then on the powerplay they boast Captain Zach Parise and Mr. Sniper himself, Ilya Kovalchuk. All of a sudden this team looks like one who can make a run at Lord Stanley.
To make matters even worse for Philly though is the fact Giroux will be suspended tomorrow. After a cheap shot to the head of Zubrus (who scored 2 goals anyway), the NHL finally got one right. Claude doesn't have any prior history and only got a minor penalty. Bold move by the league to finally get a suspension right. This is a huge blow to the Flyers. I will be interested to see how the team responds without him.
I think the Flyers rally in game 5 at home Tuesday night and the Devils take this in 6 back in Newark Thursday.