At 15-1 odds and in the 19th (of 20) posts, I'll Have Another pulled a stunning upset down the homestretch beating 4-1 favorite Bodemeister. First time rider in the Kentucky Derby Mario Gutierrez was even more thrilled saying,
"Like all jockeys, we all dream that one day (we'd be fortunate enough to) be in the Kentucky Derby. At that time I was at Hastings Park and of course I had the dream, but I wasn't thinking it was going to be the next year."
Reddam Racing, the ownership group also chimed in on the jockey,
"I want to mention there was some karma today because it was Cinco de Mayo, right, and we rode the Mexican rider," Reddam quipped before describing why he tabbed Gutierrez. "I don't know if he won or not (when I saw him ride in California), but he really looked good in the irons to me. I said, 'We need to try some new blood.'"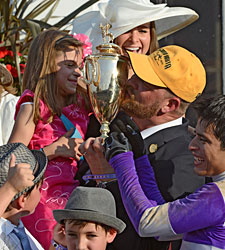 O'Neill kissing the trophy with family and jockey Gutierrez
After the race finished, they interviewed trainer Doug O'Neill and it was quite the honest interview. I haven't been around horse racing much but this guy was much more down to earth than I've seen anyone. It was cool to see how excited he was,
"There's a lot of laughs there, I would have to say. We're kind of a working class group, from the trainer, the owner, the jockey. We don't come from the bluest of blood for horse racing, and that's OK. The horse matches that absolutely completely, right?"
and in regards to the Preakness and chasing the elusive Triple Crown, the owner adds,
"We've only run three times this year, so Preakness, here we come," owner J. Paul Reddam said. "We gave the horse only two preps this year. Part of the idea was we knew we had a good horse, and we wanted to make sure he was fresh because the Triple Crown is a gamble and it looks like it paid off."
Pimlico, where the Preakness is held, is located in Baltimore, Maryland and is the 2nd leg of the Triple Crown and will most likely feature several of the horses in the Kentucky Derby and several new challengers as well. It is under 2 weeks from now Saturday, May 19th. In fact, this morning, I'll Have Another is already in flight from Louisville to Baltimore to get ready! It is arguably the toughest leg of the Triple Crown because it is only 2 weeks away from the Derby.
In tragic news, a dead body was found early Sunday in the stables of Churchill Downs and was identified as Adan Fabian Perez, a worker at the facility. It is currently being investigated but initial reports are leaning towards a potential homicide. Many of the workers live and work on site but his body was found near a stable around 4:50am Sunday. His 19 year old son identified him. A sad story indeed.