Hopefully you weren't on a first date with somebody you met online at a Hibachi last night because there were some enjoyable sporting moments to have been witnessed.
We'll start with the NBA Draft Lottery. It's seemingly not that interesting because it's just the order of the draft right? Yes and no. Since the worst team in the NBA only gets a 25% of winning the actual top pick, anything could happen. And anything could happen actually happened. The New Orleans Hornets (who weren't even one of the worst 3 teams) snagged the #1 overall selection in this year's NBA Draft. The Charlotte Bobcats, which by the way, had the all time worst winning percentage in league history, will pick second. Then you will see the Wizards and Cavaliers go 3-4.
As a bandwagon/general observer of the NBA, I find it funny the Hornets won the pick after the league just approved the sale of the team to the owner of the Saints (mo' money = mo' problems, bounty scandal reference). The NBA had previously owned this team and you have to wonder if the stars aligned for this franchise to land Anthony "the Unibrow" Davis. As a Cavs fan, I am disappointed because I was hoping for a top two pick. But after going from 7th to 1st last year (similar scenario to the Hornets this year, it's like the NBA felt bad for us because we lost Lebron), 4th seems appropriate even with the 3rd worst record this past season. Here's hoping we can trade with Charlotte because we know MJ wants Harrison Barnes and that way Cleveland can take Michael Kidd-Gilchrist, boom!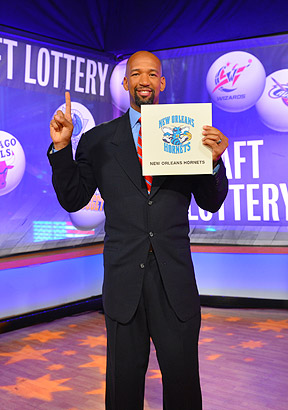 Raise your hand if you knew NOLA's coach was Monty Williams? No one? Ok, I feel better now
WOOOO STANLEY CUP FINALS
On the ice, Game 1 of the Stanley Cup Finals began with the Los Angeles visiting the New Jersey Devils. It was tight knit game that saw a 1-1 score at the end of regulation. If you saw the third period at all, you know Marty Brodeur basically kept the game from being a blowout. He was making great save after great save. The game probably should have just ended 1-0 in favor of LA and ironically could have been 2-1 New Jersey if the puck bounced better on the ice. That second goal was disallowed because Capt. Parise threw the puck in the net with his hand! That's a no-no in hockey. Apparently goals have to be scored from the stick or deflect off your body. The Devils also missed several prime scoring opportunities because they didn't shoot high enough on Jon Quick who literally backs up his last name between the pipes. He's good.
Ok, the game goes to OT. There's some back and forth action until this happened...
Slovenian stud, #11, Anze Kopitar, gets loose on a breakaway, gets a great feed from linemate Justin Williams and well, this one belongs to the Kings! What a dirty move by Kopi here. He totally fooled Brodeur, who said after the game he really thought Kopitar was going to go to his backhand.
Love this shot, especially showing it to my co-worker who loves the Devils
BEAT THE HEAT...or not
Here at Rock Bottom, Boomer and I enjoy professional basketball but only if a couple things happen each year. The first is the Cavs don't finish dead last. The second is Lebron James must not win a championship. So far in the Eastern Conference Finals, it's looking, well, not good. After having a 15 point lead, Boston could not hold off the Heat in overtime. Rajon Rondo played the game of his life including playing every single minute for a total of 53 minutes. Pierce somehow fouled out while Lebron only averages 1.8 fouls a game. I'm confused. Also, Lebron missing free throws is becoming my favorite national past time. Then on top of that, he still missed the game winning jump shot at the end of regulation. I know this guy is a freak of nature athletically but I'll never call him a complete "basketball" player because he can't shoot!
I mean seriously, Rondo is guarding you, like you need to fade away. What a pecker. But in the end, it doesn't even matter (Linkin Park reference anyone?)
WHAT?! BASEBALL?!
The Seattle Mariners beat the Texas Rangers 21-8 in a professional baseball game last night. There were only a total of 3 home runs. Seattle is still terrible. This post is for T-Rex. Go Braves.