Last night was the huge ESPN special of the revealing of the 2012 NFL Season Schedule for all teams including preseason, regular season, and of course nationally televised games.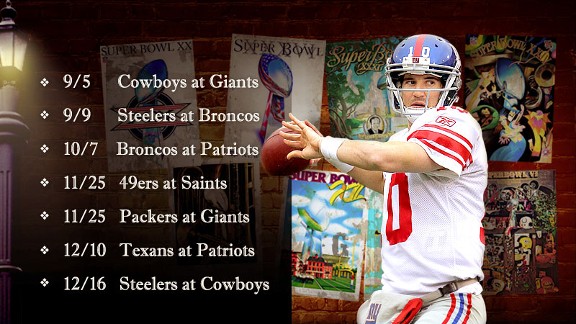 Yay football!
Thanksgiving Games
Houston @ Detroit 12:30pm on CBS
Washington @ Dallas 4:15pm on FOX
New England @ NY Jets 8:20pm on NBC
Fun fact: Thursday night games start in Week 2 this year! I'm not a huge fan of them but it's whatever, it guarantees every team at least 1 stand alone appearance each season.
Here are Rock Bottom, we wanted to give you a breakdown of our favorite teams' skeds. With the draft coming up next Thursday, Friday, and Saturday, it's never too soon to think about football!
First up, our home state and Boomer's love/hate girlfriend...
CLEVELAND BROWNS
Let's be honest here, this is not pretty. They have the third toughest strength of schedule and toughest for a non-playoff team. After the home opener, they play 3 of 4 on the road against 3 playoff teams! You'd think they'd get a break after that and they sort of do with 3 of 4 at home but again, 2 playoff teams and a borderline playoff team. Basically, the Browns could very well be out of any kind of playoff chase by their bye week in Week 10. On top of that, they start right back up with my Cowboys and their BFF Steelers. Where they can hope to salvage the season is the Oakland, KC, and Washington stretch before finishing AT Denver and AT Pittsburgh. But hey, at least they get a national TV spot vs. the Ravens on 9/27 right? Oh wait, no one has the NFL Network.
Best Case Scenario: 8-8
Most Likely Scenario: 4-12
On to Gainer's beloved...
NEW YORK J-E-T-S JETS JETS JETS!
Gainer's Gang Green features a sked of 4 national TV appearances for Sanchise, Tebow, and the boys. Overall the schedule is ranked 20th but the Jets need to get off to a quick start. Of their first 8 games before the Bye, half are playoff teams and three more are division rivals. If they are below .500, look for the media to start slamming Mark Sanchez and be calling for Tim Tebow. In the second half of the season, 5 of their 8 games are on the road but does include a home Turkey Day match up with their hated rivals Tom Brady, Bill Belichick, and the New England Patriots. Like usual, their season will most likely be determined how they finish in the final 4 games of which 3 are roadies.
Best Case Scenario: 12-4
Most Likely Scenario: 9-7
On to Boomer's NFC love child...
ARIZONA CARDINALS
The Cardinals are trending upwards thanks to a strong finish last year to end up 8-8. In the NFC West, anything can happen even though the 49ers will be tough. The Cardinals early season sked is very favorable including a great MNF game 10/29 vs. the 49ers. The real key for Arizona is how they finish because out of the bye, they have 3 of 4 on the road but they finish with 2 of 3 at home. Look for Gainer and Boomer to clash when they take on the Jets on 12/2.
Best Case Scenario: 10-6
Most Likely Scenario: 8-8
Here we go with the NFC's most debated and America's (don't argue with me) team...
DALLAS COWBOYS
The Cowboys always get much love from TV so they get their fill with 4 appearances including a 4pm Fox exclusive with Washington on Thanksgiving! Unfortunately, for the 2nd year in a row, it's an early Bye which players hate. On top of that is the fact the first 6 of 9 games are on the road! It all starts with the NFL Season Opener Wednesday 9/5 at the defending champs and Gainer's least favorite team, the New York Giants. As a reward though, the final 5 of 7 games are at home. But let's be real here. December has never been kind to Tony Romo. He's got to figure it out soon.
Best Case Scenario: 12-4
Most Likely Scenario: 9-7
We'll wrap up with the ginger led...
CINCINNATI BENGALS
The Bengals after no national TV appearance last season get 3 this year including the very first game! The Bengals early season schedule features 4 roadies and 3 home games before their bye week, however it is favorable. They get the Browns twice! It seems to be crucial for the Bengals to have a winning record by the bye week. If they can get through the Eagles game with a decent record, I'm sure AFC North implications will be on the line the final 2 weeks at Pittsburgh and home vs. the Ravens. As you'll see below, the Bengals indeed have a favorable schedule this season.
Best Case Scenario: 11-5
Most Likely Scenario: 10-6
Special note: The Cowboys/Giants season opener is on Wednesday so as to not conflict with President Obama's DNC Speech Thursday.