The first round is over in Augusta and frankly it was one of the more exciting first rounds in recent memory! Only a handful of golfers shot the ball really well and the majority of those who did, had a rough ending. At this point, the overall field is really close so even if you shot over par, you are more than in contention for the Green Jacket. Look for a leading pack to start emerging today with 5-7 golfers in the mix.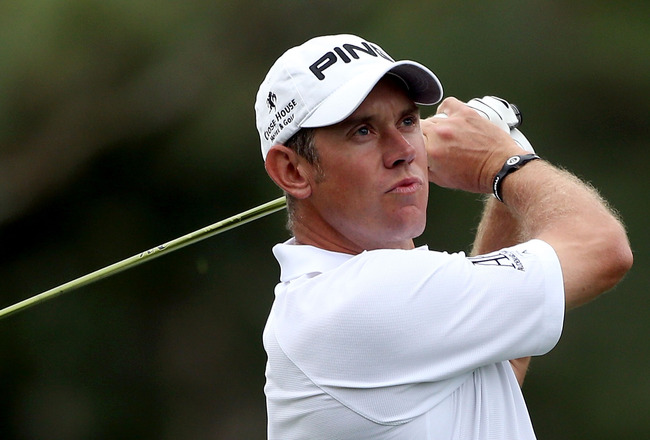 Your leader thus far...
Your leader after day 1 was Lee Westwood at -5 (a stroke ahead of the field) after shooting a 67. He's arguably the world's top golfer to not have won a major at this point. He managed 7 birdies but a couple bogeys kept him from pulling away very early.
After Friday's round, the field will be basically cut in half as you need to be within 10 strokes of the leader or in the top 40-44 or so. If I had to guess at this point, I would say you would need be at least +3/+4 if you want to play this weekend.
The hard rain leading up to yesterday's round had a lot to do with some off scores because there was mud everywhere. Look for some decent scores today as the course gets a little drier.
In regards to my picks from yesterday:
Faves:
Tiger - didn't have a great day overall especially bogeying final 2 holes and finishing with even par 72.
Phil - also wasn't dominant and shot 2 over par at 74
Rory - Hanging on for a decent round at -1, 71 first day
Luke - nearly DQ'd after fax smudge up with first round score, #1 player in the world struggled to a +3.
Hunter - Silently shot an even par for the day
Dark Horses:
Rickie - +2 for the tournament, c'mon man!
Sergio - playing with an infected nail, he also finished even
CH3 - rounding off my dark horses with another even score
No chance:
Charl - defending champ also freakin' even
Bubba - Mr Powers is eggin' me on with his impressive -3 69!
Kuchar - smarty pants from GT at -1
Again, ESPN coverage will start at 3pm throughout the evening, enjoy!