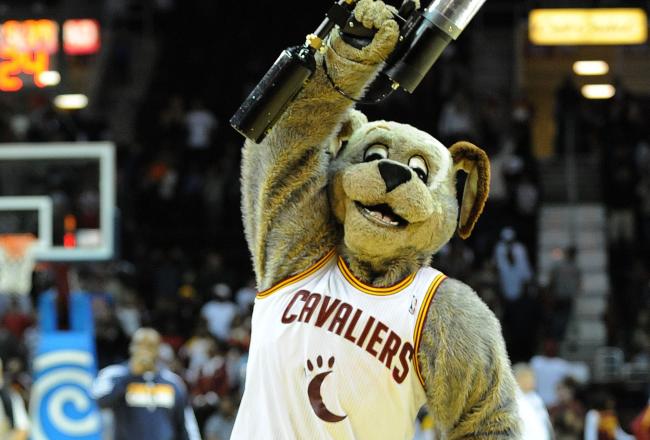 He keeps up the good work no matter how many games the team loses
How did 2012 end up for the Cavaliers? Not great. Since last time I checked in, the team went an impressive 2-5 but that did include their first back-to-back wins all season. They were able to knock off the Bucks for their first division win this season and came back a few days later to go 2-0 on the season versus the lowly Washington Wizards (worst team in the league with only four wins). For six of the seven games to finish December, the Cavs played without starting center Anderson Varejao due to a "bruised knee." However, how often are guys missing two weeks worth of games with one of those injuries?? Seems fishy to me...
What else happened?
Well back up point guard Donald Sloan had a crappy Christmas by getting waived. The team then signed PG Shaun Livingston and at 6'7", he can provide a bench relief for smaller players a.k.a Boobie Gibson. He has yet to play but that's only because coach Scott prefers players to have one full practice under their belt before playing in a game (that's for new players, players returning from injury/sickness, etc.). I'd show his devastating knee injury from a few years ago but it's gross so feel free to YouTube that sucker later on on your own time.
Tristan Thompson has actually played fairly well in Andy's absence. He's averaged nearly a double double every time out. He's been the leading rebounder in five of the six games since Andy has been out of the line up and that includes BOTH teams not just the Cavs. Tyler Zeller (of whom I received a pleasant t-shirt jersey, #40, holla) has been inconsistent but has shown flashes of being a really solid offensive piece. He really needs to bulk up. Dion Waiters, to put it nicely, has really kind of fallen off the map after coming back from the injury. He's a streaky shooter at best and is just a horrible finisher around the basket having no desire to ever use the backboard for some reason. CJ Miles continues to shoot well and it seems he has finally settled into being a Cav which is a good sign. Other than that, no player is worth of being talked about. Varejao is proving once again to be as fragile as ever and Boobie Gibson is, for all intensive purposes, a complete waste of space.
At 7-25, the Cavs are already looking at being the #2 overall pick in the NBA Draft come June (if the lotto balls bounce our way!). The defense has held serve but the offense is not something you want to witness on a daily basis. I've noticed Kyrie Irving is almost shouldering too much of the load and is getting frustrated with the lack of execution by his teammates. It is difficult for younger players to go through losing stretches because they've never really gone through it before. They just desperately need help scoring points. The trio of TT, Andy and Zeller just don't bring enough and Irving is still your best shooter. The team still is very competitive for most of the game but like the Browns, cannot close out the games. This usually is happening because the opponent focuses on shutting down Irving, forcing another player to score and that other player really hasn't shown up yet.
What's up next? January will be a tough month for the squad. Through next Wednesday, the Cavs will play five games including tonight's match up at home against the Sacramento Kings. Without Tyreke Evans and the Kings horrendous road record, the Cavs have a prime opportunity to win this game. Varejao is still out and Gibson is out again because of a concussion suffered last Friday. This coming Friday, the team travels to Charlotte to take on the Bobcats who just ended their 18 game losing streak. This seems a ripe time to put together a nice little two game winning spurt before coming back home Saturday night against the Rockets. Next Monday, while most of you will watch the Alabama-Notre Dame game, the Cavs will be getting blown out in Chicago by the Bulls. The week ends next Wednesday back home versus the Hawks. At best, this five game series will go 2-3.
They could really use a solid week as the following week entails a six game road trip out west. If they can make it through that, I'm thinking 3 wins for a total of 10 wins before the team finally starts getting a regular slate of home games. Starting January 22nd, the Cavs will play 10 of 12 at home including seven in a row!
Is it the trade deadline yet?
Looks like Irving got some tasty treats for Christmas this year...