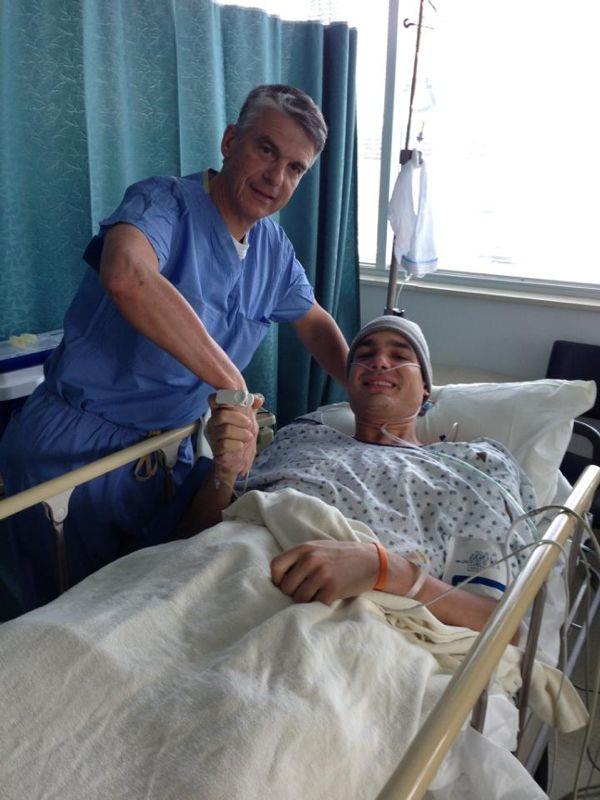 Andy after surgery (posted on his Twitter account) with the doctor
Welp I called it. His knee contusion was just a LITTLE bit more than that. Having a torn muscle must feel like crap. The team will now be without his services for nearly two months. Here's hoping to a speedy recovery because at age 30 with some serious mileage on that body, things don't get any easier. He'll have missed 100+ games over the past two seasons once he returns and basically his trade value is gone. Hindsight is 20/20 but when he was on fire to start the year, the Cavs should have traded him! Oh well. Better luck next year I suppose...
Crazily enough, since last time, the Cavs went exactly like I thought and finished the past five games at 2-3 and are 4-5 over the past nine games. Is that improvement I see?? With wins over Charlotte (buzzer beater!) and a convincing win (16 points!) last night over "we-have-your-number-for-some-reason" Atlanta Hawks. The team had ample chances to defeat the Seattle SuperSonics, oops, I mean Sacramento Kings last week but couldn't finish them off late in the game. As predicted, Houston and Chicago both stomped the crap out of the Cavs.
What's been the difference?
Kyrie Irving.
Go to the 1:40 mark to see what I'm talking about. Sssssssssssss...
For every bone headed dribbling mistake, KI does about four to five amazing things that makes you forget about some awful turnover. At 23.5 points a contest, Irving leads all NBA point guards in scoring which is good for sixth overall in the NBA. On top of that, he averages nearly six assists and four rebounds a game. Once the team develops a little more and he gets some reliable shooters, there's no reason for Irving not to be averaging 20+ points, 10 assists, and 5 rebounds each and every night.
Keep it up! That goes out to Tristan Thompson who continues to impress during the Varejao-less streak of games. Moving Zeller into the starting line up has done wonders for Thompson's game as he plays better alongside a more natural center in Tyler. Nothing against Andy but when he was in, it was basically two power forwards out there. Thompson has dominated the paint, played excellent defense, improved his free throw shooting and has even shown us some post moves down low! Over these past five games, he's averaged 13 points AND 13 rebounds. It's really exciting to see how he's improved these past few weeks.

Thank goodness some sort of decent version of CJ Miles showed up this season. Even though he missed last night's games due to back spasms, he moved into the starting five and has consistently put up 15+ points a night. This is great for Irving and some of the pressure he commands on defense. I also like what Shaun Livingston has brought to the team since being picked up after Christmas. As a solid veteran, he's calm, cool, and collected. Zeller is still adjusting to the overall speed and physicality of the game. There are certain plays where you want to kill him and others where you see the potential. The life of a rook. I like the spacing he brings to the floor, especially with Thompson. Tyler just needs to bulk up so he can be more of a force offensively.

This leaves the ultra hard to figure out Dion Waiters. In fairness to Dion, he's been hurt and is no longer starting. However, it is not a demotion as in Coach Scott wanted his second unit to have some punch. Nevertheless, Dion has yet to hit his groove in the wine and gold. He's shown the flashes of brilliance but his overall shooting numbers are, in fact, some of the worst in the entire league. I think with him, it's a combination of confidence and consistency. He wants to contribute right away and gets caught trying to do too much. I love his energy and swagger but the game just needs to slow down for him and right now, it's just too fast. With the improvement I've seen in Tristan Thompson's game his sophomore year, I expect similar things to happen late this year and next season with both Dion and Zeller.

At 9-28, the Cavs still stink but there has been improvement across the board from the games I watch. I've noticed when the team transitions hard and plays quality defense, their offense flows directly from that. They aren't a great half court team. They rely on defensive stops, quick outlets, and easy lay ups. This is due to the fact they don't have great shooters or post up players in the half court offense. Irving will get his points but it's not enough that he scores 30 a night. Upcoming, the Cavs have their final tough road trip of the year. It's a five gamer out west. It starts tomorrow against Denver; Sunday in LA with the Lakers; Monday in Sacramento; Wednesday in Portland; and finishes next Saturday in Utah.

I'd like the Cavs to seek revenge on the Kings and Trail Blazers for blowing both those games at the Q earlier this season. Utah and the Lakers could go either way and we've already beaten the LOLakers. The only sure fire loss I see is Denver but mainly due to match ups. Denver is a beast team down low and the Cavs don't get very physical at all. So again, I hope to go 2-3 and finally see some consistency.

Ironically at this time last year, the Cavs were coming off a win over Denver in their 37th game of the season and were 14-23. After their final decent stretch of last season, they finished 21-45 (66 game shortened lockout season). This year the team has 45 games left (just about halfway) and I'd like them to be better than last year so let's shoot for 30 wins guys! 21-24 to finish the season sounds good to me. They are on pace to finish with 26 and last season would have averaged out to be the same over an 82 game season as well. Let's hope the front office starts doing some work up there. Until next time Cavalier fans...

ROSTER UPDATE: Forward Samardo Samuels was waived and Jon Leuer was recalled. Kevin Jones has played 20 minutes in the past 2 of 3 games. He's getting the feel of the NBA and it seems Coach Scott trusts him more. He and Luke Walton will be counted on to play more valuable minutes with Varejao out of the line up.