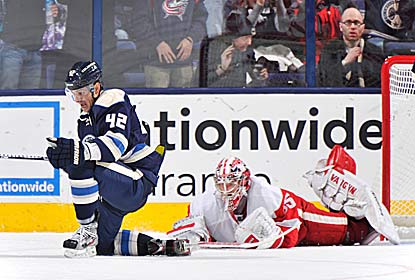 Artem Asylum going ham for two goals in a win over Detroit
In this new section, Gainer is bringing you da hockey news. Our Columbus Blue Jackets are now ten games into the shortened 48 game season. After this upcoming weekend, they'll be a quarter of the way done with the entire season! At 3-6-1 overall, things could obviously be better but they could honestly be WAY worse. The Jackets got off to a great start winning the season opener down in Nashville where they never win with an impressive shootout victory. Two days later in the home opener, they lost a tough shootout to Detroit but three points outta four ain't bad. Unfortunately after that, there was a three game losing streak. Since a victory over Dallas on 1/28, CBJ have dropped three of four. What explains the struggles?
Tough starts, inconsistent goaltending, and injuries. We'll start with the first. CBJ has been plagued with slow starts especially in the first period. They have allowed the opponent to score first too many times and with a grind-it-out type of offense, it's tough to continually battle back. In terms of goalies, I haven't necessarily agreed with some of the decisions the team has made for who gets the starting nod each night. After the Bob got the first three points, I thought he should have started the third game which Mason ended up losing to the Coyotes 5-1. Of course, the next night, Bob got slaughtered himself 4-0 in Colorado. Over the past week or so, Mason has been the better goalie and like most teams, they are going to ride the hot hand. Lastly, o man the injuries. Seriously, guys are lining up at the trainer's office getting treatment. Aucoin, Wisniewski, Nikitin, and Moore have all missed time and that's just the defensemen. Forwards Cam Atkinson and Matt Calvert have both missed time as well. In last night's loss to the defending champs LA Kings, only two opening night starting defensemen dressed and played. Here's hoping guys start coming back soon...
There's been some good right? Yes there are glimpses of hope in the state capital. First off is the penalty kill. Ranking in the top ten of the NHL, it's been a huge bright spot for a historically poor PK franchise. The added grinders (especially Brandon Dubinsky) have made it very difficult and frustrating for opponents' power plays to get shots on net. If you look over their first ten games, only three games were completely out of hand (Phoenix, Colorado, and St. Louis). All the other games have either been wins or two or less goal losses. They deserved better against Chicago and let one slip away last evening. This team could easily be 5-5 or even 6-4 at this point had a couple things gone their way. My player analysis is below...
The Good
Center Artem Anisimov - with the added playing time, Arty leads the team with 4 goals and has shown flashes of brilliance with the puck on his stick.
Defenseman Fedor Tyutin - I could say his name just for staying healthy and in 10 games, he has 8 points.
Center Mark Letestu - a healthy scratch the first few games, Mark has played 8 games and put in 4 points. He has been a fine addition on the penalty kill and a great 4th line player.
Defenseman James Wisniewski - The Wiz has 5 points in 9 games but slammed the wall hard a couple days ago. I hope he's back soon. He's on a mission after last year's debacle.
Goalie Sergei Bobrovsky - He's 2-2-1 with a 2.97 Goals Against Average (GAA) and a save percentage over .900 (which is above average). I still prefer him to get more starts than Mase.
Not So Good but Time to Turn it Around
Center Derick Brassard - After a slow start, DB has slowly got his game going with 5 points. As the top line center, he needs to continue to step up or he'll be shipped out.
D-man Jack Johnson - He hasn't been horrible but the way he finished last year, I was hoping for a better start. Luckily his partner Wiz has stepped up his production.
Right Winger Derek Dorsett - Still the agitator he has always been but for the first time in his career, there are expectations on the offensive side of the puck and he just doesn't have those kind of hands.
Center Brandon Dubinsky - Still no goals for CBJ and a possible suspension looming, Dubs has luckily dominated the PK unit for the club. I expect him to find his groove soon.
Left Winger Nick Foligno - Got off to a fast start but only one goal and three points. With that kind of production, the fan base already misses Marc Methot, especially now with the injuries.
Bad
Center RJ Umberger - He stunk last year and has one assist this year. Outside of leadership, what is this guy even providing on the ice anymore? I'm looking to trade him. Sorry Columbus.
D-man Adrian Aucoin - I didn't expect offensive production but at his age, getting injured isn't helping his case on top of being a minus five on the third pairing.
Center Vinny Prospal - Another guy I just enjoy watching playing because he loves the game but this is most likely his last season. Only three points thus far and tied for a team worst minus eight.
Center Ryan Johansen - The 4th overall pick just a couple years ago has only 2 assists on the season and today was sent down to the AHL club. Not how he imagined his career going. What will motivate him? Another first round bust for CBJ? I hope not.
Right Winger Cam Atkinson - I was going to put Matt Calvert here with his horrible minus eight but I expect nothing out of Matt in the first place. I decided on the injured Atkinson because he's only played three games. His fault? Doubtful. However he was a guy counted on before the season to score goals.
What Next?
Hopefully we'll start seeing more of Bobrovsky in net this next week with games tomorrow vs Calgary, Sunday vs Edmonton, and Monday vs San Jose. Those finish the six game homestand before they embark on six game road trip. It will be crucial to get home points before that trip. If they can start getting healthy again, the offense should slowly improve. Right now they are averaging 1.9 goals per game which is almost dead last. The easy fix here is the power play which ranks 23rd overall. If they can get into the top 15 in that category, CBJ may end up surprising some people this season.
Sid taking a puck to the face in last night's game
Around the NHL (aka How My Pens Are Doing!)
Da Penz currently lead the East with 7 wins and 14 points in their first 10 contests. Every team has played 8 games minus Calgary for no good reason. Chicago is lighting it up in the West leading the charge with 18 points and 8 wins. They have NO regulation losses yet. Impressive, very impressive.
Early surprises in the East have to be Tampa, Toronto and the Islanders being in the top eight thus far. You could even throw in the Devils without Parise. How could I forget about the horrible Canadiens playing well too? Oh yeah because I hate them. In terms of disappointments, it's easily the entire bottom half of the East. The Caps, Flyers, Sabres, Panthers, Rangers and Hurricanes are on the outside looking in. These are all teams with Stanley Cup aspirations but frankly have been sub par if not bad. The Capitals seem to be in real trouble at 2-7-1 so far.
In the West, the Anaheim Ducks have been a force along with the youngsters in Edmonton both in the top eight as of today. The Ducks really are clicking on all cylinders with a full year under coach Bruce Boudreau which is probably making Caps fan cringe. So far the Wild and Red Wings are on the outside but I don't expect either to sit there long with their history and added players. However, Detroit may not be as good as they have in years past with the players they had finally retire. The biggest disappointment is probably the start of the Kings.
Anyway, all of this is still too early to tell. Both last place teams are only four points out of eighth (2 wins) so we'll have to wait another 10 games before we get a better understanding of where everyone is at.